Download ExtraDisks version 23.5.1 (May 12, 2023):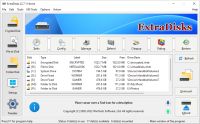 ExtraDisks is a suite of tools for creating Virtual disks on your computer – physical drives remain unchanged and are not divided into additional partitions. The program contains tools for creating Encrypted disks, Virtual disks based on files and Virtual disks based on folders.
The current version consists of the following tools: Encrypted Disks, Virtual Disks, Folder Disks, Startup Manager, System Tweaker.

Operating system: WS Windows 11/10/8.1/8/7/VISTA x86 x64; Download size: 2 MB
Download "extradisks.exe"Download "extradisks.zip"
Download "extradisks64.exe" 64-bitDownload "extradisks64.zip" 64-bit