Presentation of ExtraDisks v.23.10.1: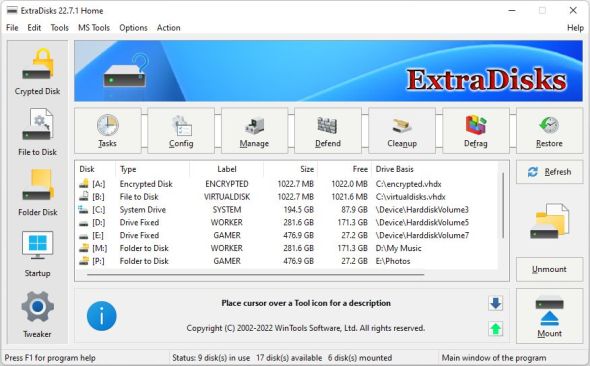 ExtraDisks is a suite of tools for creating Virtual disks on your computer – physical drives remain unchanged and are not divided into additional partitions. The program includes tools for creating Encrypted disks, Virtual disks based on files and Virtual disks based on folders.
DownloadScreen Shots Information
Inside of ExtraTools:
ExtraDisks system requirements:
OS: MS Windows 11/10/8.1/8/7/VISTA x86 x64
Minimum screen resolution: 1024x768
32 MB free disk space
256 MB RAM
Size: 2 MB
DownloadScreen Shots Information
ExtraDisks Feed Back:
Please send your comments and defect reports to [email protected]. We also welcome your suggestions regarding improving the quality and ease of use of our software. Thank you for your support!